A quiet sanctuary nestled away in Palekastro Crete, close to traditional Cretan villages and famous windsurfing beach Kouremenos (only 1km away).
All suites and apartments have been designed and decorated with comfort, tranquillity and our guests' privacy in mind offering exceptional accommodation. A true retreat where you can unwind on the terrace, looking out to the large expanse of olive trees that adorn the crystal clear beaches that Eastern Crete is known for.
Stone and timber harmoniously co-exist within our suites, staying true to authentic Greek architecture techniques while ensuring a cooler interior in the warmer months.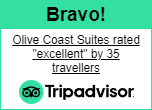 Easy access to world-famous Kouremenos, Chiona and Ermoupoli beaches for all windsurfing enthusiasts. The unique Vai beach and its Palm Tree Forest is only a short drive away (6 mins by car).
Experience the unconditional and world-recognized Cretan hospitality at Olive Coast Suites in Palekastro Crete all year round!
Let your senses taste the simplicity and high quality of the local cuisine, smell the locally grown thyme and wild greens, listen to the cicadas singing their song among the olive trees, gaze all day at the blue skies and seas and be touched by the Greek hospitality and the warmth of the locals.
We will be delighted to welcome you to Olive Coast Suites, in Agathias Palekastro Crete, offering fine accommodation all year round.
Read More